The sleepwalker
Holly has a new boyfriend and in this purecfnm she finds out that he is a sleepwalker. He is working nights and sleeps during the day. She is having her every day coffee with her friends when he walks in the room completely naked. At first, the babes  were shocked, then they were a bit surprised, but in a very good way. When they realize he is a sleepwalker they are wondering what could make him wake up because nothing seems to wake him up. Then Holly has the idea to wank his cock to see if he gets hard, and soon all the other babes are taking turns on jerking and sucking his hard cock. He wakes up when he shoots his huge load on Holly's face!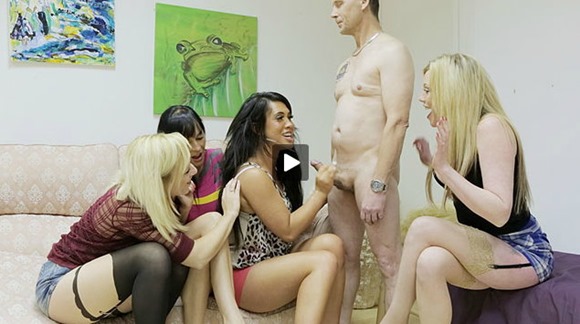 Well to be fair, Holly was the sluttiest of them all and to the honest she can always give one mean and hot hand job too. The other chicks observed how their girl friend took that big boner and offered it a nice treatment, stroking it with pleasure. Enjoy seeing the wanking session as the guy moans in pleasure with her expert hands pleasing his cock and like in all the scenes, see him shooting his load. And like we said, it gets to land all over miss Holly's cute face! well that's about it for this one and do come by next week for another superb and hot scene as well everyone!
 Se as these chicks are sucking this sleepwalking guy's cock!